Event Marketer – EXPERIENTIAL IN… ST. LOUIS
Originally posted on EventMarketer.com on 4.29.2020 – https://www.eventmarketer.com/article/experiential-in-st-louis/
Our curated list of hidden gems for the inquisitive event marketer
Our "Experiential In" series returns as we explore popular event destinations and mine our sources for unexpected sites of interest and inspiration. From craft breweries to the World Chess Hall of Fame, to, as you'll see below, a lively chat with Tommy the Otter, consider it a dose of professional development for the full-time experience builder.
This month we're taking you to St. Louis, MO, home of the Gateway Arch, the Anheuser-Busch Brewery and oh-so-tasty toasted ravioli. Recognized as the largest city between Chicago and Los Angeles along Route 66, STL's rich history is embedded in nearly every corner of the city, and its free tourist attractions abound. Here, we'll skip the pint of Bud Light and bypass the renowned Saint Louis Zoo in favor of some lesser-known locales. Ready for your private tour? Meet us in St. Louis…
"Otter Chat" at the St. Louis Aquarium
Location: 201 S 18th St.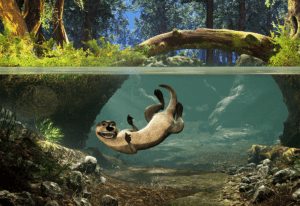 The St. Louis Aquarium at Union Station, which just opened its doors on Christmas, is home to 13,000 animals and 44 tech-forward exhibits, but its interactive "Otter Chat" experience is the attraction you can't miss. Developed by Groove Jones, Otter Chat is an animated, improvisational exhibit featuring a conversation with Tommy the Otter. Tommy asks visitors questions and responds to their reactions in real-time thanks to comedic improvisation by staff behind the scenes, who also control the otter's avatar. Visitors can also view an oversized screen showcasing Tommy's habitat—a hyper-realistic, computer-generated environment designed to educate guests on otters and conservation efforts. The "talk show" is part of the aquarium's two-story habitat featuring three real North American river otters—Thatcher, Sawyer and Finn.
Experiential nods: Interactives, engagement tactics, A/V
More info: stlouisaquarium.com
See the full case study of the production – https://www.groovejones.com/otter-chat-an-interactive-animated-show-at-the-st-louis-aquarium/