Victoria Celebrates Día de los Muertos with AR-activated Beer Label Designs
Originally appeared on BrandUnited.com – https://www.brandunited.com/article/victoria-ar-activated-beer-labels/
Like the festivities in Mexico each fall, the Día de los Muertos packaging for Constellation Brands beer Victoria bursts with color — and bridges two worlds. While el Día de los Muertos (or Day of the Dead) unites families with deceased relatives for celebration, these limited-edition beer bottles connect the in-person and online consumer experience through an augmented reality (AR) activation.
Created by Chicago-based agency Upshot and AR partner Groove Jones, the packaging prompts Victoria drinkers to scan a QR code and access a mobile webpage to enable the WebAR experience. Consumers can then use their phones to interact with three different Día de los Muertos label designs, which come alive through animation.
We talked to Alex Schultz, senior director of marketing for Cerveza Victoria at Constellation Brands, and Gaba González Marra, associate creative director for Upshot, to learn more about the holiday packaging and marketing strategy behind it.
What motivated Victoria to bring an AR experience to the Día De Los Muertos campaign?
Alex Schultz: Victoria Cerveza strives to be true to our authentic Mexican heritage and with that in mind, we focus on being part of occasions and moments that matter to our consumers. With this activation, we aim to provide a meaningful emotional connection, and reinforce that Día de los Muertos, despite its name, is a celebration of life.
Through Augmented Reality, we were able to create an engaging experience with one of the holiday's most iconic symbols, La Catrina, and bring her to life using animation — allowing consumers to see how death, traditions and the love for the deceased symbolically come to life during the holiday.
Who designed the custom bottle labels? How did you bring these designs to life?
Gaba González Marra: We felt it essential that the art be as authentic as possible, so we partnered with Mexican artist Tavo Montañez to design three limited-edition custom bottle labels featuring La Catrina; the great dame of death. As a native of Aguascalientes, México, Tavo takes part in Día de los Muertos celebrations every year — which inspired him to incorporate vibrant colors, symbolic ofrendas and authentic traditions in his designs. The design features a split image of La Catrina depicting both life and death, representing the best of both worlds being honored during the holiday.
The AR experience allowed us to play off the natural movement in Tavo's artwork and bring it to life. La Catrina typically leads the way in the holiday's festivities, which are full of movement and vibrancy. Tavo's artwork intentionally led the mind down the path of that movement given its fluid strokes and line work. The AR application just allowed us to fulfill the story telling opportunity that was already there in his work.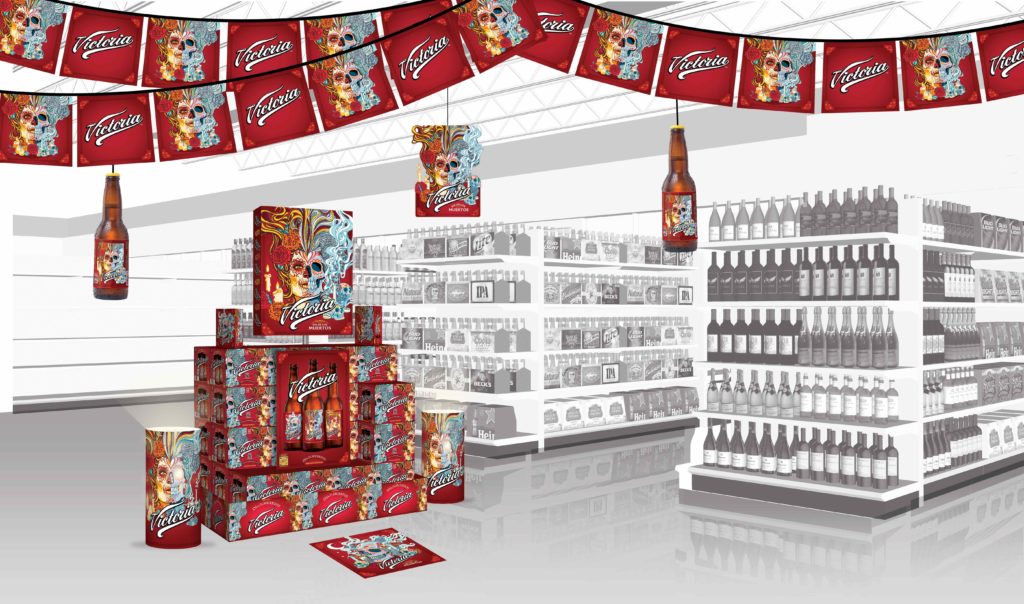 Describe the experience for the consumer once they scan the QR code.
Gaba González Marra: Consumers can scan the QR code located on our limited-edition Victoria packaging or point-of-sale (POS) in stores across the country. Once they can, they go through an age-gate and unlock a camera on their phones that they can point to the bottles. Once the camera detects the Victoria beer bottle and they tap the screen, the unique Catrina design starts coming to life — animating with beautiful sounds, colors and other authentic elements of the holiday. Each unique bottle design unlocks a different AR experience — three in total. Our intent is to provide unique experiences for consumers with each design.
How is the Victoria brand further engaging consumers after they take part in this AR activation?
Alex Schultz: Beyond the activation, consumers will be prompted to share the experience on social using the hashtag #LoMejorDeDosMundos (TheBestOfBothWorlds), inspired by the label art featuring La Catrina depicting both Life and Death. To further encourage conversation and engagement around the holiday, Victoria will also feature social content on Facebook and Instagram that teases the limited-edition packaging series.
Why do you think integrating AR with packaging is a smart marketing tactic?
Alex Schultz: Victoria is the oldest Mexican beer and has been at the center of Día de los Muertos since the beginning. That's why every year, we release a different series of limited-edition Día de los Muertos packaging to honor the holiday. Our consumers look forward to collecting these bottles and proudly sharing them on social media, which is why having them unlock the AR experience felt like a great new way to engage with fans. These bottles are a way for our consumers to identify themselves with the holiday and share their Mexican traditions — and now AR experience — with others.
Read the Production Case Study?
Check out the Case Study on GrooveJones.com – https://www.groovejones.com/victorias-dia-de-los-muertos-web-ar-campaign/
---
Looking to supercharge your creative or need help with an upcoming program? Reach out to us and we can help.
Interested in Learning More? Let's get you connected to one of our XR Strategists. - Contact Us