BLOOLOOP – How St. Louis Aquarium at Union Station is educating, engaging and entertaining guests during COVID-19
Originally posted on BlooLoop.com on 4.29.2020 – https://blooloop.com/features/st-louis-aquarium-coronavirus-response/
St. Louis Aquarium at Union Station is America's newest aquarium. We spoke to some of the team about the new attraction and how it is reacting to the global coronavirus pandemic.
St. Louis Aquarium at Union Station has come up with several imaginative strategies for keeping its audience engaged through the coronavirus closure. We spoke Erin Clark and Tamera Brown to find out more.
Erin Clark is the Director of Animal Projects for ZoOceanarium Group. She moved to St. Louis in 2017 to start working on the Aquarium. Clark was also a key member of the team which created Green Planet, Dubai. Tamera (Tami) Brown is the Executive Director of St. Louis Aquarium at Union Station. Before this, she was the General Manager of the Greater Cleveland Aquarium in Ohio.
St. Louis Aquarium at Union Station
Erin Clark joined ZoOceanarium when the company, in its current state, was formed in 2012. Her background is in specialized hands-on animal care.
"When I transitioned into this role, it allowed me to take that experience that I had as an end-user and bring it to new projects as we were developing them," she says.
"We've got an amazing group of professionals. They are passionate about taking all their knowledge and applying it to the specific project. And they do that in the best way possible. I have just loved seeing the St. Louis Aquarium come to life."
The Aquarium is owned by Lodging Hospitality Management (LHM) and operated by ZoOceanarium Group. It opened its doors for the first time on Christmas Day 2019 to universal accolades. St. Louis Aquarium welcomed 61,000 visitors in the first week and has been consistently busy until coronavirus forced a temporary closure
St. Louis Aquarium was designed by PGAV Destinations and built by McCarthy Building Companies Inc. It showcases the key features of the 125-year-old Union Station in which it is housed. It also features one-of-a-kind exhibits.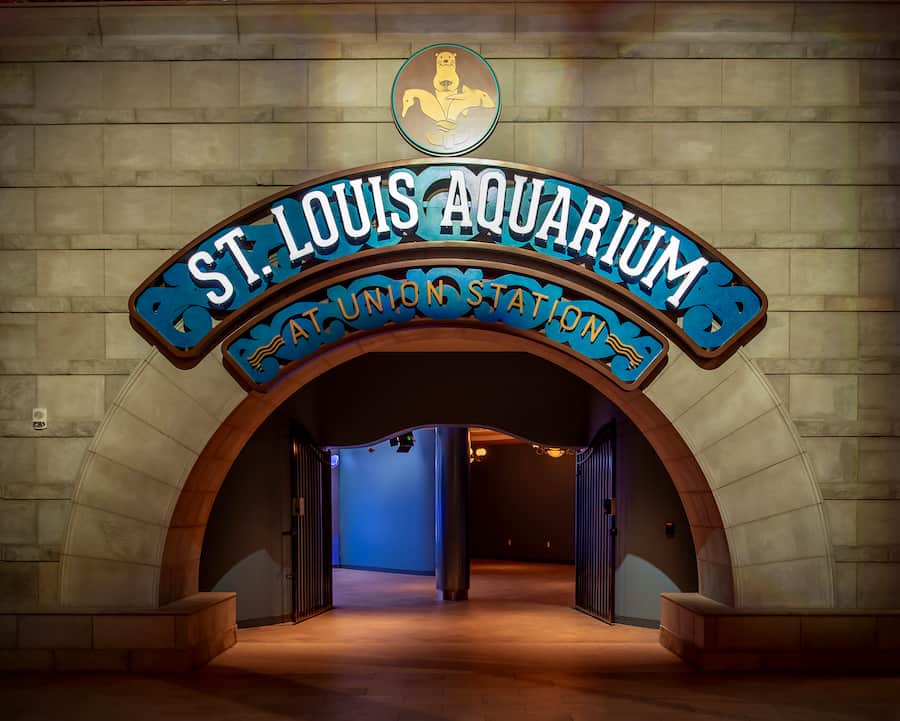 The site uses acrylic in innovative ways throughout. This is to create the illusion of barrierless communication between visitors and aquatic life. There are also many interactive exhibits. These evoke a close emotional connection with the Aquarium's inhabitants, and, through them, the environment.
A modern aquarium
"There's so much history within Union Station," says Clark. "And it is amazing to bring a new aquarium to a city that never had one before. Especially one that is so supportive of its cultural institutions. The support we've had from the public has been unbelievable since day one."
Explaining the institution's ethos, she says:
"ZoOceanarium looks at these experiences a little differently. We try to make them as hands-on and immersive as possible. We have a truly dedicated team of guest experience experts to help tell the animal story. They help to give those sneak peeks behind the curtain that everybody wants."
Technology at St. Louis Aquarium
The Aquarium uses technology in several intelligent ways.
"Technology is such a part of our everyday lives," says Clark. "It can bring people together, as we're seeing, especially in times like these. But it can also create these very individual experiences, where people get lost in their phones. So what we wanted to do was use it to help build a community.
"When you first walk into the St. Louis Aquarium, we have a projection ceiling show. This is a hint of what you will see throughout your visit."
Technology also connects the historic building's past function with its present one:
"For a long time, Union Station was the train hub of the Midwest. It is the reason why St. Louis could host the 1904 World's Fair, the 1904 Democratic National Convention and the Olympic Games at the same time. Because it could bring people in and out of the city."
"This is a nationally registered historical landmark and it has played a critical role in St. Louis' development. To ignore that would have been a shame.
"First, you hop on a virtual train, for a three-minute experience. During this, you leave Union Station, just as you would have done for over a hundred years. However, this journey is an aquatic one. You're watching the city grow, you're diving into the river and you're travelling to the ocean. Then you're coming back to truly begin the rest of your aquarium experience."
St. Louis Aquarium and digital outreach
Soon, the Aquarium was continuing to offer transformative experiences during the coronavirus crisis – over the internet.
"As such a new organization, we felt we had only just begun to form a relationship with our community," says Brown. "We needed to think about a way to continue to build that relationship, even while they couldn't visit."
"So, using Facebook Live and YouTube, we started twice-weekly Facebook Live presentations. These are fun but also educational. We also follow that up with educational activities and then a fun craft activity. This means that it's relevant to a whole range of different ages.
"We realized that people also need to chill out and relax. So, for an hour on Monday, Wednesday, and Friday, we do a QuaranStream. We show scenes of the different habitats with music behind it. This allows people to visit the Aquarium differently."
These measures make it possible for people to continue to form an emotional attachment with the Aquarium's animals. This is important in connecting people with conservation.
"It is about encouraging them to form an emotional engagement, isn't it? And I think we're making that possible," says Brown.
"We are searching for silver linings. One is that in our live streams, there's nobody else in front of the acrylic. So, you can see the animals clearly, and spend as much time as you want to look at the habitat. You're not feeling rushed by a crowd."
Exhibit design
A lot of thought and design expertise has gone into the exhibits, the largest of which is the 250,000 gallon Shark Canyon.
"We looked at this one, again, a little differently," says Clark. "Because of its size, you traverse over two storeys and have multiple viewing options. These allow you to see more of the thousands of animals that call it home."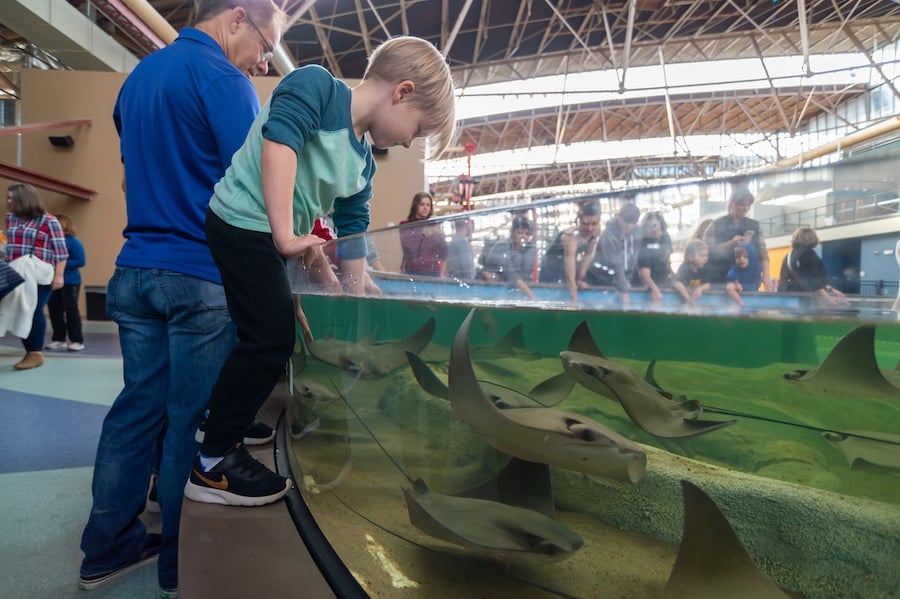 "Rather than put our largest viewing panel on the side, as a lot of facilities do so viewers watch the sharks or the fish swim by, we put it on the end. The sharks and our lesser devil rays, cow nose rays and all of our schooling fish come right at you. It's a completely different experience. And it gives a new perspective on these graceful, misunderstood animals."
St. Louis Aquarium's response to coronavirus
The response of St. Louis Aquarium to the global coronavirus pandemic has been inspirational.
"It was certainly never on our radar that three months after we opened, we would have to close again," says Clark. "We closed St. Louis Aquarium early, out of an abundance of caution around the coronavirus outbreak, and we're glad we did.
"But we were immediately faced with wondering how we could stay connected to our guests and our community when we couldn't invite them to see us. How could we continue to tell our stories? So we turned to social media. We have a great AV team that have just moved into the space."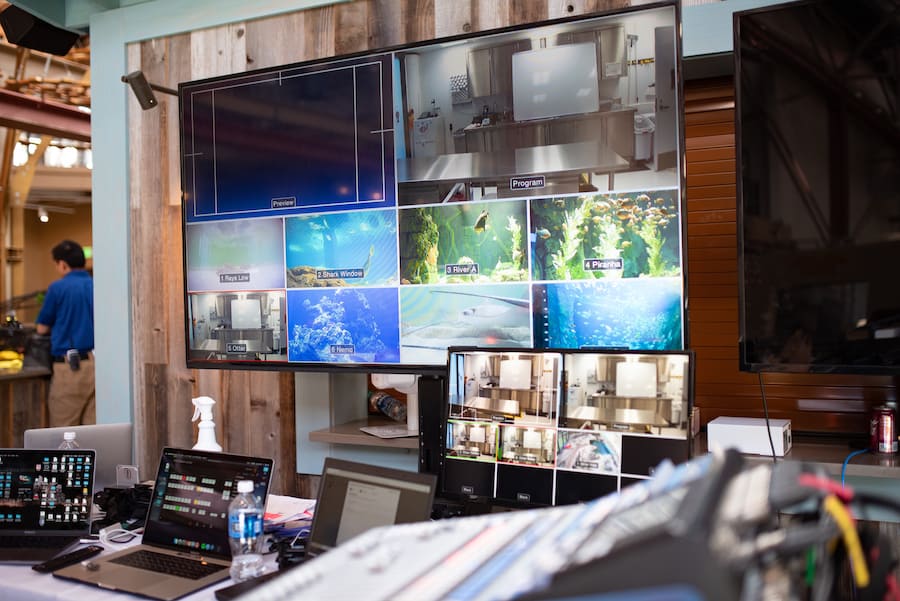 "We didn't originally have live-stream cameras set up in any of our habitats. So when you walk through now, all the cameras are on the outside. It's something we'll be working towards, but we were concerned with finding a way to reach people. To keep connecting people to our mission."
Three times a week, the Aquarium does an hour-long 'QuaranStream'. This is a live-stream that cycles through the Aquarium's habitats.
"It allows you to see them as if you were here. You can watch the otters play, or see the piranhas schooling around. At times you may get a glimpse of something you wouldn't normally see. For example, one of our divers with a vacuum hose, getting ready to siphon some of the substrates in Shark Canyon."
Educational and entertaining
Twice a week, there is a breakfast programme says Clark: "It's a live, 30-minute programme with some of our animals and our animal care team. We've introduced Coconut, our youngest sloth, for example.
"Our viewers got to have breakfast with Coconut and to learn more about sloths. The best part about it is because it's a live stream, we can field some of the questions then and there. After the live Facebook session, we answer the rest too."
The St. Louis Aquarium is also recording the sessions during the coronavirus closure so those who can't make the live one can catch up later.
"Through our partnership with the St. Louis Aquarium Foundation, we have a fun educational at-home activity that can follow on from the session.
"Yesterday we had breakfast with our rays. Viewers got to learn about our cownose rays and our lesser devil rays. Once that was done, later in the afternoon, you could make your own paper ray that you could wear on your wrist. It's a fun activity for kids of all ages. Some adults do them, too, which has been cool."
There was no goal in mind when the Aquarium began streaming content, she explains:
"We just thought we'd put it out there, and see if it is something that interests people. The number of photos that we've seen about kids getting ready to watch our animals with their breakfast has been unbelievable. People have kind of invited us into their homes, and allowed us to be a part of their morning."
Working on accessibility
Touching on another way The St. Louis Aquarium is using the coronavirus lockdown period, Clark says:
"We are taking advantage of the time as best as possible to put in place some of the tweaks we wanted to tackle. We've been open for three months; what small changes do we need?
"One of the key focuses for the Aquarium before we opened was being accessible to every one of our guests, as far as is possible."
"We have a Universal Design Committee we have been working with. About a month ago they did an unguided walk through the space. Then they gave us feedback, as guests, about what is working well, and what are the things that we need to address right away."
This has involved expanding the signage and drawing attention to features that were in danger of being overlooked. The aquarium is also reviewing the website to ensure the information it contains is completely accurate. In addition to this, it is assessing recent social media usage to make it more accessible. For example, through captioning, transcripts and text.
"We're fortunate that we have an amazing group of professionals in the St. Louis area," says Clark. "They have volunteered their time to help us do this. We've got professionals out there that represent their community, and know what their needs are."
Improving the experience for all
The St. Louis Aquarium team is also exploring how it can optimize accessibility during the coronavirus lockdown. For instance, for those with limited mobility, blind and vision-impaired guests, and those who are deaf or hard of hearing.
"We are also looking at the experience from the perspective of those for whom English isn't their first language. And everybody that might need a little bit of something extra. For instance, nursing mothers, those with sensory processing issues."
"How can we put these in place? To think that we could do it on our own would not be doing a benefit to any of our guests. We need to be bringing in people that can help, and provide their expertise in these areas."
The ownership group, LHM, has been supportive:
"It was never a question. It was, 'Absolutely, yes,' from the beginning. So we are using this time to figure out how to make those changes to the St. Louis Aquarium, and how to do it responsibly. We'd love to be able to do everything, but we have to be a little cautious at the moment about what we spend finances on. So, we are also looking at alternative ways to tackle these issues.
"ZoOceanarium Group has always been about creating once-in-a-lifetime, unique experiences for people. And we need to do that for everybody. Sometimes that just means making some minor adjustments to what we've been doing so that it is more accessible.
"It's been a nice learning opportunity for us. To discover how we can continue to grow and create better experiences for everyone."
A brand new aquarium
Tami Brown is the Executive Director at St Louis Aquarium. She joined the project in August 2019, working with the team to get the opening strategies ready and protocols and procedures in place, and the last phases of design and construction completed.
"We opened in December, so it was a bit of a hit-the-ground-running type thing," she says. "It has been an interesting time. At the end of February, I was just starting to feel that we were in good shape. The team was amazing, and we were running fine; maybe I didn't have to work seven days a week – and then, this happened.
"It's a worrying time, and it's also so frustrating for those of us who are in this business. Because we want to connect our guests to these wonderful animals."
Historic surroundings
Brown is used to historic buildings. So, while she acknowledges the Aquarium's unique location brings challenges, she feels the opportunities outweigh them: "There are way more benefits. Being in a historic building gives such a different feel for our guests."
She also opened the aquarium in Cleveland, Ohio: "Again, it is in a historic building, so that is what my background and understanding are. The challenges tend to be in construction. Would I have chosen to have a giant pillar right at our entry gate? No, but it is what it is."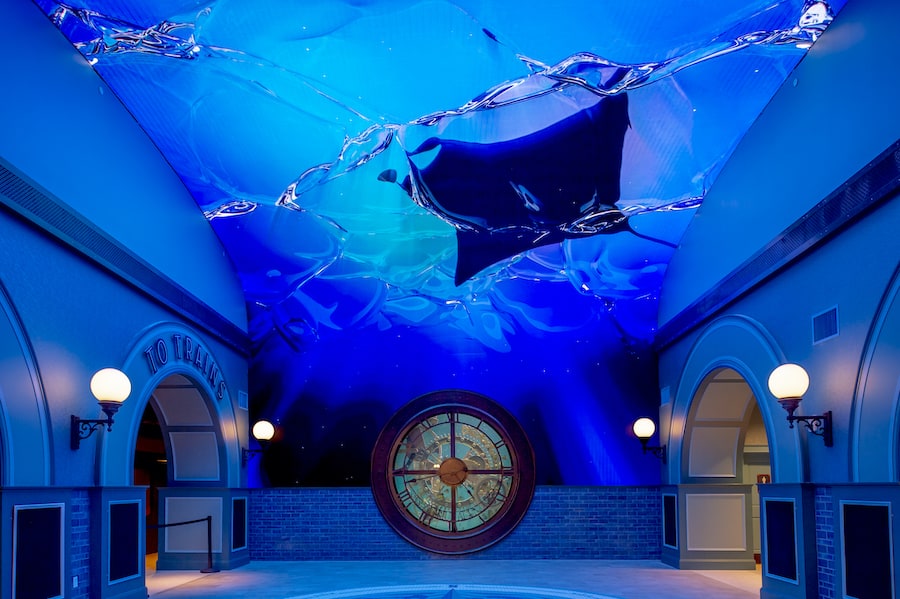 "Being in this beautiful building is special. Particularly when you get up to our second floor. This is open to the train shed above and has all our touch pools and animal encounter areas. It's an active, hands-on, high tech area that draws people to it. The setting adds to the experience in such huge ways."
A phased response
St. Louis Aquarium responded to the onslaught of the coronavirus crisis in phases.
"We did not understand the full extent of the issues back in February," says Brown. "But we did start adding hand sanitizer stations and stepped up the number of times that we disinfected areas. We started thinking a little bit more closely about it."
"As things progressed, we started limiting the number of tickets that were for sale. It was hard, because having just opened, we were still selling out every single weekend, at a very high level of ticket availability. Of course, when you cut that in half, it's even harder to get tickets. So you have even more people who are angry because they couldn't get one. That was a challenge."
As the gravity of the situation became clearer, the team took further measures.
"We started backing off things like our touchscreens. We turned off some of the high tech because we didn't want lots of people touching it during the day. In addition to this, we started thinking about queue management. How could we ensure that we allow guests to stay in groups, but maintain a space of six feet between the groups of guests?
"It became increasingly complex. When the mayor of St. Louis made a call to limit groups to a maximum of 10, we realized that not only could we not do that, but it was also our moral responsibility to say, this is not where people should be now."
The financial aspect impact of coronavirus
Of the financial consequence of unplanned closure for an indefinite period, she says: "This is going to impact, of course, on the whole of the tourism industry.
"We are running an animal care team, but not a lot of other team members. Even so, for the projects that we have put together and would like to do during this time, we have had to consider what can we do with just the people that we have on the skeleton team. As well as the materials that we have on-site."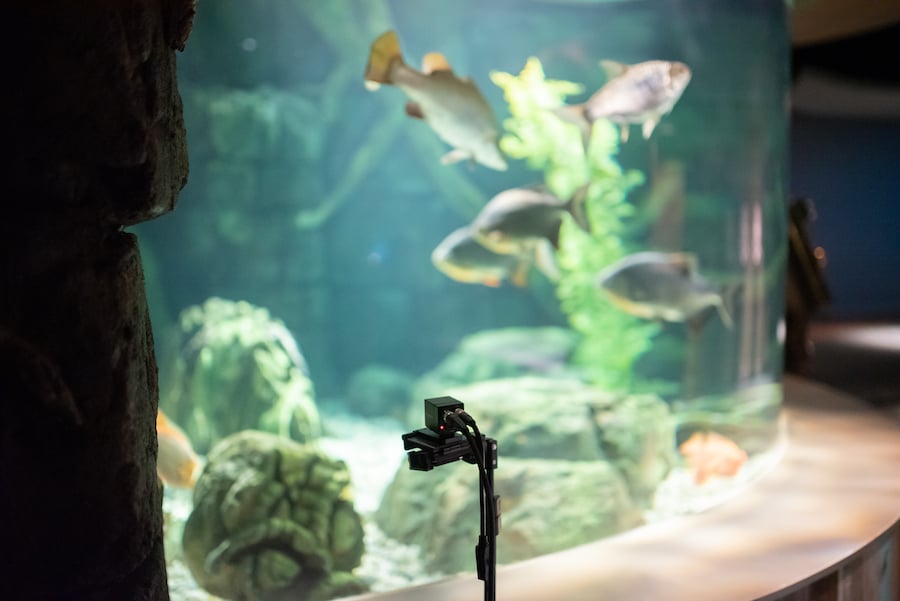 "We're very lucky that, between the ownership of LHM as well as ZoOceanarium, there is an understanding that investing in maintaining and improving The St. Louis Aquarium and not letting it fall behind in any way during the coronavirus outbreak is so important. This ensures that when we can reopen we won't have lost any ground."
She is aware that many of the smaller organizations are less fortunate:
"It's so sad. I'm glad that, for example, the US government has allowed non-profits like zoos and aquariums to apply for some of the small business administration loans to help get through. It's so important."
Coronavirus and the future of St. Louis Aquarium
St. Louis Aquarium's education and engagement initiatives will continue to enchant their virtual visitorship during the coronavirus closure.
"We have come up with a schedule that includes a Tuesday live feed, our 'Breakfast With…' slot," says Brown. "This might involve feeding stingrays or otters; we've had 'Breakfast with' both. People are starting to expect it: I get asked, 'Who are we having breakfast with next?', which is cute.
"Then on Thursday, we have a grab-bag of whatever else we want to do. We might talk about animal training or some of the animals, or diving since that's such an integral part of aquarium operations. Then the QuaranStream will continue."
"We could stay on those themes for however many weeks we have to. But we're also keeping a close eye to make sure that we're not losing steam, and guests are not starting to find it stale. For our regular social media, beyond those educational pieces, we are adding a little much-needed humour, while remaining educational.
"For example, if you're trying to think about social distancing, consider a three-otters space. We posted that right after our 'Breakfast with the Otters'. There's education, but we're aiming to make people chuckle, and to brighten their day a little."
Looking ahead
Now, St. Louis Aquarium at Union Station is looking ahead to a time after coronavirus. When the world begins to return to normal, people are going to need their zoos and aquariums, and a connection with the natural world.
"So many people are finding respite in going for walks now; in just going outside," says Brown. "This shows that connection to nature is already happening. And when we can then bring nature back in the form of visiting a zoo or aquarium, people will already be seeing the natural world as something that helped them make it through this time.
"Let's hope this period is as short as possible, with everybody keeping as healthy as possible."